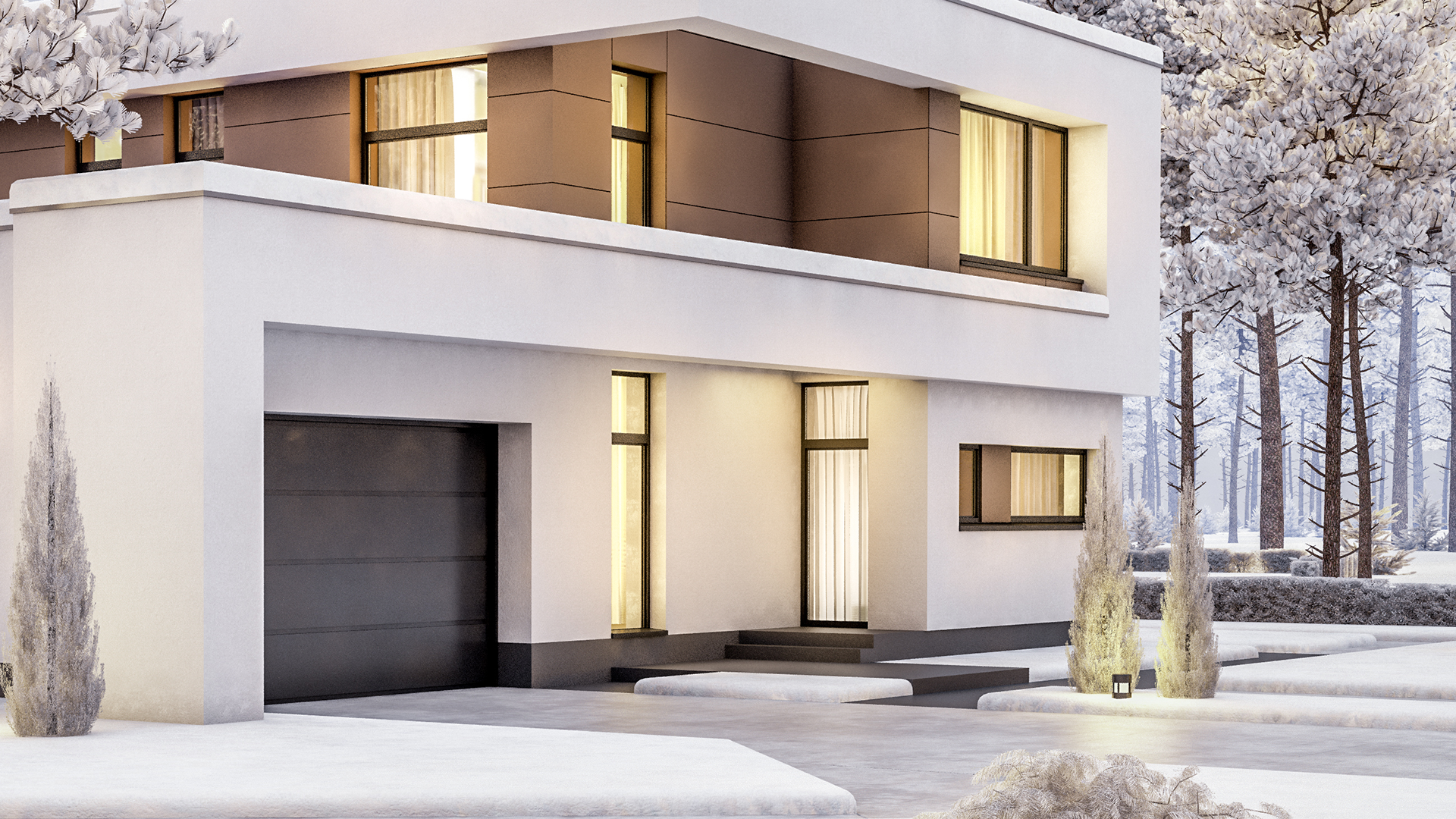 AIR TO WATER HEAT PUMP – AN INDEPENDENT SOURCE OF HEATING AND COOLING OR AS A HYBRID COMBINATION WITH AN EXISTING BOILER?
Nowadays, we pay more and more attention to choosing the right and efficient source of heat in the house. The ever-increasing costs of buying traditional fuels and the ever growing pace of life make us look for devices, which will not only heat or cool the building for a cheap price, but also help reduce the time spent on their operation to a minimum. The obvious attribute of the new heat sources is also the price and the payback time of the investment, when compared to the cheap traditional solid fuel boilers.
We shall analyse different configurations of heat pump applications, depending on the phase an investment is at, when the decision is made: whether it is at the design or shell stage, or at the operation stage (when the building is already occupied), in order to offer a practical picture of the profitability of investing in new heat sources.
Design stage – air to water heat pumps
If the decision to choose a heating method is made, while the investment is still in the project phase, then the best solution seems to be using air to water heat pumps, taking into account the ever lower heat demand of modern buildings per 1 m2 and the increasingly attractive costs of investment. Unlike ground-source pumps, air to water pumps do not require any significant interference with the structure of a plot of land.
In the case of single-family houses with a floor area of less than 150 m2, occupied by a family of four, an 8 kW heat pump will be sufficient for the majority of applications. It will provide both thermal comfort and hot tap water for the household. It is worth noting that the investment cost regarding such a pump can be as much as half the cost of a ground-source pump! More than that, when it comes to operation, the costs of an air water pump can (but not necessarily) be only slightly higher.
If a building has a higher than average demand for heating power, for example resulting from its specific purpose, in order to provide more hot tap water, it is sufficient to use a 10 kW, 12 kW or 14 kW model, categorised under the same product class, which can easily meet the increased demand.
Practically every one of the offered heat pumps features modulated heating power and is equipped with an additional peak heat source, e.g. in the form of a 6 kW electric heater.
Remember that the use of a heat pump first and foremost provides the users with great comfort, because they do not need to worry about purchasing fuel, about the compulsory cleaning of the burner, or about storing extra fuel. Savings will materialise as early as at the stage of erecting the house. An air heat pump, combined with a domestic hot water tank, occupies less than 1 m2 of the building's space, and it also more and more often features an aesthetic design, so there will be no need to build a large boiler room. The "saved" space can simply be used for residential purposes, or help reduce the cost of erecting the building, if we give up on the idea of having a boiler room and design a smaller house. 
If a building is equipped with a heat pump, there is also no need to have an expensive smoke chimney. This way, we will also avoid the expenses related to running a gas connection or erecting a container for gas, oil, or keeping a storage for solid fuel, in our house. Investing in an air heat pump will also help reduce the cost of maintaining thermal comfort when using an underfloor heating system.
An existing building – hybrid boiler plants
The example described above pertains to a model application of a heat pump in a modern, newly erected building. However, what would we do, if we wanted to improve the comfort of living and reduce heating bills in an already existing house, in which nobody had thought about a heat pump at the design stage?
The basic question is: what is the real demand for heating power in the particular building and can we reduce it? In some cases, before we start replacing a central heating system, it will be necessary to carry out thermal modernisation of the building (changing window frames, insulating walls, ceilings, etc.). Such actions will not only reduce the building's heat demand, but they will directly translate into reduced heating bills and also allow for a real adjustment of the required power for the heating equipment. When modernising a heating system, we can, for example, buy a heat pump with less power demand than the furnace we have used so far. This will translate, firstly, into lower investment costs, and secondly, into lower operating costs.
However, there are investments, where a complete change of an entire heating source to a heat pump is not cost-effective, because of high investment costs resulting, for example, from difficulties in adapting the building. If that is the case, we can consider a hybrid boiler house, i.e. installing an air to water heat pump, in combination with the existing heat source. Such a solution will reduce the operating costs and offer environmental advantages.
In this variant, our analysis concerns a house built 30 years ago, with a total area of 300 m2, equipped with an oil boiler, which can often have a heating power demand exceeding 20 kW, at a design temperature of -20°C. During the colder winter season, oil consumption can be as high as 4500 l/year. A 14 kW heat pump should meet 100% of the building's energy demand, with the outside temperature falling down to about 0°C. When using a hybrid boiler house below this temperature threshold, an oil boiler can be activated as an auxiliary source of heat, for example.
However, we should bear in mind that the latest temperature measurements in the climatic zone III indicate that the outdoor temperature falls below 0°C for only about 1,500 hours a year, which amounts to 17%. For the overwhelming majority of the year, the only source of heating for both the building and hot tap water will therefore be a heat pump, which is much cheaper to operate and eco-friendly.
Combining an oil, gas, or eco-pea coal boiler with a heat pump can significantly reduce your annual heating bills and simply increase your comfort, if solid fuel boilers are used.
Let us remember that there are a number of factors influencing a particular investment and the operating costs generated by heat pumps. We must take into account not only the demand for heating power, but also the delivery temperature of a heating system. The lower it is, the cheaper it is to operate a heat pump. The actual amount of hot tap water consumed and, for example, connecting the entire system to an existing fireplace with a water jacket, or to solar collectors, can also have an additional impact on the profitability of the investment. The correct connection of such a system and potential modernisation of the building's heating system is crucial for the whole system to operate efficiently and cheaply.
Summary
The use of an air to water heat pump for heating up buildings and hot water is a good solution, both when the investment has only reached the design phase and when the buildings already exist. In both cases, this will significantly reduce the operating costs and can prove profitable for new projects, from the investment perspective. Hybrid systems can be offered as an advantageous solution for modernising the heating system, in terms of economy, ecology, and comfort for the user.
Discover the KAISAI ECO HOME heat pumps – a green heat source for both single-family, multi-family, and commercial buildings.