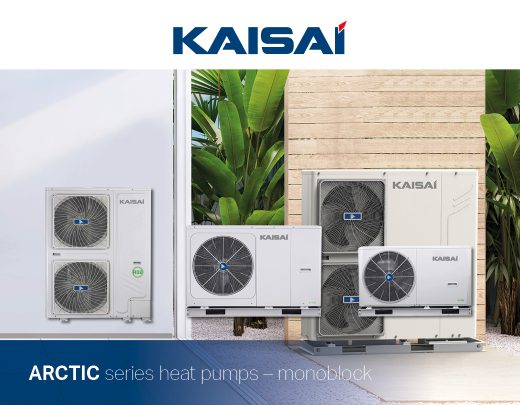 NEW KAISAI MONOBLOCK HEAT PUMPS OF THE ARCTIC SERIES
At a 100-square-meter booth located in Hall 4A of the modern NürnbergMesse complex, the Klima-Therm Group presented the latest air conditioning, ventilation and heating solutions from its own brands KAISAI and Klimor.
The KAISAI Eco Home range of heat pumps has been expanded with new solutions based on the ecological refrigerant R32. A new series of monoblock heat pumps has been introduced into the Arctic series, characterised by the possibility of operating over a very wide range of external temperatures, comprising eight models with heating capacities from 6 to 30 kW.
The units are equipped as standard with the operation of two heating circuits, auxiliary heater, circulation pump, safety group, equipped with a heated drip tray and adapted for operation with glycol solution.
With the ComfortHome app for tablet and phone, the user can remotely control the supply and hot water temperatures via Wi-Fi. It can also activate holiday modes, ECO mode, silent mode and control electricity consumption.
ARCTIC MONOBLOCK HEAT PUMPS are:
– a series of tzpes: 6, 8, 10, 12, 14, 16, 22, 30 kW (models 12-30 kW for 3 phases)
– compact design (complete hydraulic module for central heating operation: circulating pump, diaphragm vessel, safety valve, air vent valve, flow sensor – as standard)
– additional electric heater – for 6-16 kW models
– COP: up to 5.2
– operation via WiFi wireless network
Detailed information about the Arctic series can be found in the price list folder.