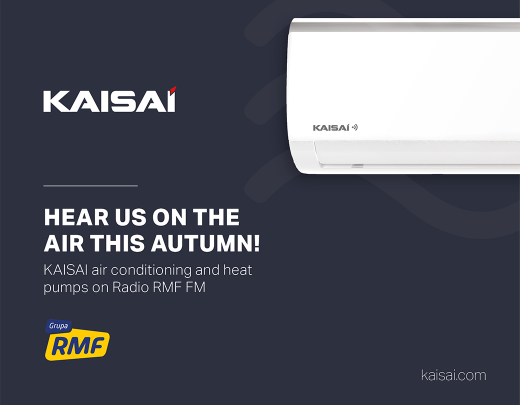 KAISAI IS COUNTING ON THE RADIO AUDIENCE!
For the upcoming autumn season, KAISAI has planned a new promotional campaign, focusing on radio listeners. Sponsorship spots for the brand are being aired for nearly 3 months on Radio RMF FM – one of the most-popular radio stations in Poland.
The campaign, aimed at attracting interest in economical and environment-friendly air-conditioning products and heat pumps from KAISAI, began on 17 August, and will last until 1 November.
"After an intensive summer campaign on Eurozet Group radio stations (Radio ZET, Antyradio and Meloradio), conducted under the slogan "KAISAI – air conditioning for home and office", we are entering the autumn season with the promotion of equipment which ensures comfortable room temperatures in the colder months of the year. Our air conditioning, with a heating function and a heat pump as an inexpensive, environment-friendly, and reliable source of heat, is a perfect choice for everyone" comments Ewa Pilarska, Marketing and PR Director of the Klima-Therm Group. She also adds: "As in the previous campaign – as a result of a very-positive reception – we also decided to communicate in the autumn with radio listeners, but this time we opted to focus on Radio RMF FM."
During the campaign, sponsorship spots are being aired 7 days a week, in different bandwidths, preceding and closing the programmes which are most popular among the listeners.