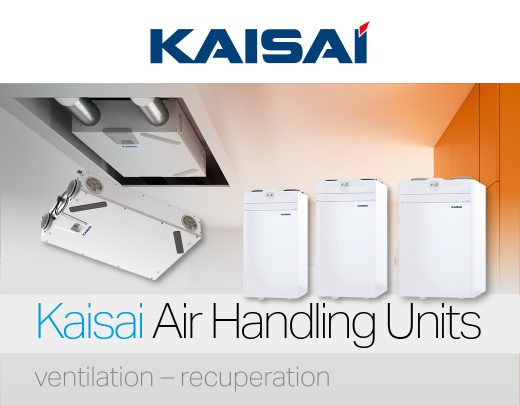 NEW PRODUCTS IN KAISAI OFFER – RECUPERATORS
The KAISAI product range will now include a new category of products – air handling units.
The Kaisai recuperation units are highly efficient ventilation systems with a heat recovery function, designed for mechanical ventilation of houses, offices and shops, manufactured according to the state-of-the-art trends in technology.
The advantages offered by KAISAI units:
Up to 92,5% of recovered heatModern designHigh filtration class – F7/M5 filterUniversal installationEnergy-efficientQuiet operationIntuitive controlEasy to use

KAISAI offers four models of devices with a capacity of 150 to 460 m³/h.
What does heat recovery consist of?
Recuperation is a type of mechanical ventilation supplemented with heat recovery. A recuperator makes it possible to control the movement of the air supplied to the room and to recover heat from the polluted air coming from inside the house. The recuperator is the heart of your house designed to recover the heat and use it to heat up the fresh air. Additionally, the filters installed inside the recuperator clean the air from viruses, pollutants, allergens and smog.
Check more details concerning KAISAI air handling units in the leaflet.