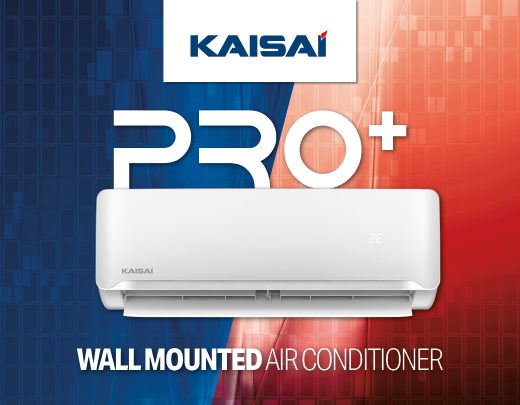 THE NEW KAISAI PRO+ WALL-MOUNTED AIR CONDITIONER
The Pro+ air conditioner – a newcomer to the KAISAI range for the 2020 season – is an appliance with a very-high energy efficiency classification.
The Pro+ wall-mounted air conditioner is yet another new unit introduced by KAISAI which operates using an ecological R32 refrigerant. Its use facilitates the achieving of the very-high energy efficiency classification A++ for both heating and cooling, which is confirmed by the SEER-index value 8.1 and the SCOP-index value 4.6.
The appliance is characterised by its wide range of operating temperatures (from -15˚C to +43˚C for cooling and from -30˚C to +30˚C for heating). This ensures economical cooling, and constitutes the ideal heating source for rooms in cool-environment zones.
The Pro+ combines modern design and a high degree of usage comfort, provided by a convenient wireless controller, which incorporates a range of useful functions, such as air ionising and 3D ventilation. As with all KAISAI wall-mounted units, as standard the Pro+ model is equipped with a Wi-Fi module, allowing the remote control of the unit's operation using mobile phone or tablet.
More information about the new air conditioner can be found in the leaflet.