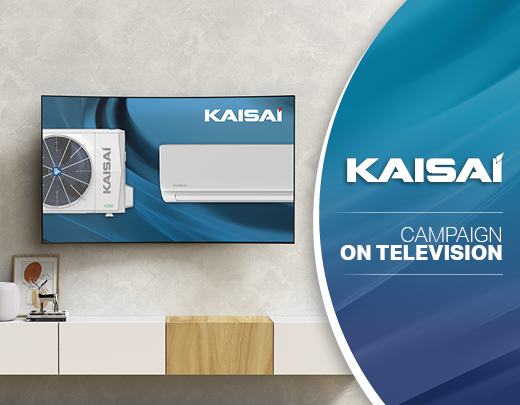 KAISAI sponsorship campaign on TV
At the beginning of July, the company Klima-Therm starts with a TV sponsorship campaign of the KAISAI brand. For three months, sponsorship billboards promoting air conditioners and heat pumps will be aired on national TV stations. Television, along with radio, outdoor and Internet advertising, completes the media plan for this year's biggest campaign in the history of the KAISAI brand.
Two sponsorship billboards have been created for the TV ad - one dedicated to air-to-water heat pumps, the other to promote air conditioners. Sponsorship indications will be aired in thematic blocks enjoying the highest viewership, among which are sports, weather forecast, and movie trailers. As part of the planned activities, an 8-second KAISAI commercial will appear before and after selected programmes on TVP1, the largest station in the general audience group, and on TVN and Polsat, which record the largest share of the TV audience in the so-called commercial group aged 16-49.
- "One of the most important advantages of television as a medium is the ability to quickly reach a wide audience of our key target group with our image message. I am convinced that sponsoring based on billboard broadcasts on several stations with different audience profiles will allow us to be even more effective in consumers' awareness" - emphasises Ewa Pilarska, Marketing and PR Director at Klima-Therm Group, and adds: - "Television is a significant strengthening of the ongoing since April, nationwide campaign of the KAISAI brand, based on the presence on the radio, large-format outdoor advertising media and the Internet. Without a doubt, the overall media effort planned for 2022 is the largest advertising project we have done to date, and one of the largest - if not the largest - of its kind in our industry."
The main objective of the campaign is to build awareness of the KAISAI brand and popularise its air-conditioning and air-to-water heat pump products, and in a sales context to strengthen KAISAI's position in the budget equipment segment. The KAISAI campaign, the biggest in the brand's history, includes a mix of traditional media and the Internet. Intensified advertising activities began in April and will last until the end of 2022. The television part of the campaign is planned for three months: from July to September.