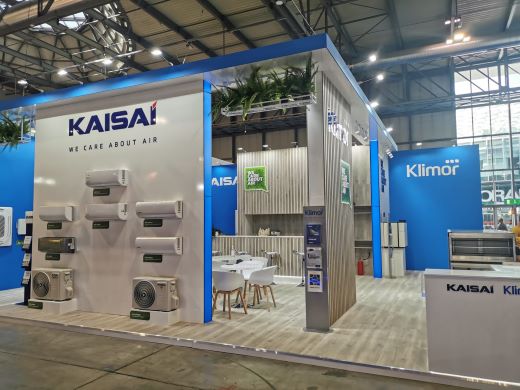 MCE 2022 behind us! Summary of Klima-Therm Group's participation at the Milan trade fair
On 28.06-01.07 in Milan, the Klima-Therm Group appeared among the prestigious group of exhibitors at the 42nd edition of the international trade fair Mostra Convegno Expocomfort 2022, presenting the latest KAISAI and KLIMOR brand products. The main purpose of the Group's participation was to once again enable, after a long break caused by the prevailing pandemic and restrictions, direct contact with potential buyers of the equipment with representatives of the companies and to familiarise themselves with product innovations.
MCE is currently one of the largest trade fairs for water, heating, sanitary and ventilation and air-conditioning systems. This time, on the impressive size of 16 exhibition pavilions, more than 1400 exhibitors from all over the world took part.
Klima-Therm Group's stand, with a total area of as much as 104.5 square metres, was located in one of the most prestigious locations of the exhibition hall. The dominant blue and white colour scheme of the stand with elements of wood, referring to the colours of the KAISAI and KLIMOR brand logos, provided a consistent background for the presentation of the most interesting air-conditioning and ventilation products from the portfolio of the Group's key companies.
Numerous visitors to our stand had the opportunity to receive detailed information on KAISAI's flagship RAC and LCAC air conditioning units, with the new KAISAI HOT and KAISAI ONE+ wall air conditioners at the forefront. Also presented were modern solutions from the R32 heat pump segment - monoblock and split with hot water cylinder. The latest R290 heat pump - monoblock type - attracted great interest. The offer of heat pumps was further strengthened with products from the field of RES - new models of PV modules and inverters.
"KLIMA-THERM Group's participation as an exhibitor at the largest trade fair in Europe is a perfect opportunity for us to strengthen our consistently implemented sales and image strategy," - says Ewa Pilarska, Marketing and PR Director at Klima-Therm Group - and adds: "We are extremely pleased that the presentation of our products at such a prestigious exhibition for professionals aroused great interest among visitors."
We would like to thank everyone who visited the Klima-Therm Group stand in such large numbers during the four days of the exhibition. Participation in the MCE trade fair strengthened our conviction of the importance of live meetings and their valuable impact on building business relations.
In October, as part of the continuation of the project of participation in the leading exhibitions of the world's refrigeration, air-conditioning, ventilation and heat pump industry, the Klima-Therm Group will appear among the prestigious exhibitors at the Chillventa trade fair in Nuremberg.
We sincerely INVITE you today!!!