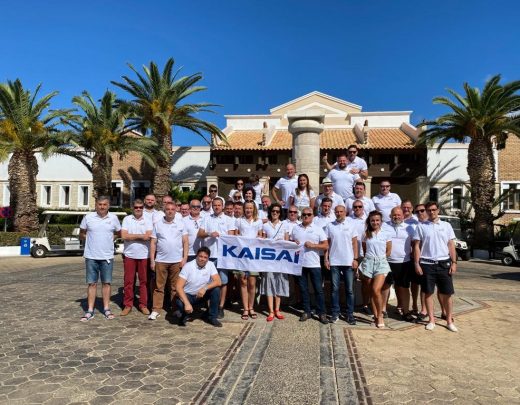 A SUNNY TRIP TO CRETE WITH KAISAI
At a 100-square-meter booth located in Hall 4A of the modern NürnbergMesse complex, the Klima-Therm Group presented the latest air conditioning, ventilation and heating solutions from its own brands KAISAI and Klimor.
In October, the Klima-Therm Group invited several dozen KAISAI brand business partners on a joint week-long trip to the largest Greek island – Crete. The all-inclusive trip was a reward for the highest air conditioner sales in 2020-2021.
During the trip, participants discovered the charms of East Crete, famous for its extraordinary views of the beautiful Mirabello Bay, the sunken ancient port of Olous and the enchanting town of Agios Nikolaos with its picturesque port and Lake Voulismeni. Highlights included a cruise to the islet of Spinalonga and a tour of the impressive fortress built by the Byzantines. The beautiful sandy beaches, lively resorts and charming corners of the island provided exceptionally favourable conditions for blissful relaxation.
"We would like to thank our partners for their contribution to the development of the KAISAI brand, as well as for the time spent together during the trip and the opportunity to share the experience of exploring new and interesting places," summarises Arkadiusz Oracki, Deputy Head of KAISAI Commercial Department, and adds "Just like our previous trips, this year's trip also turned out to be a unique opportunity to build relationships in an attractive setting and beautiful scenery. We hope that the next events we will plan will also meet the expectations of the participants, provide a lot of positive impressions and remain in our memories for a long time."
The trip to Crete took place between 3 and 10 October and the participants included several dozen representatives from almost 20 awarded companies in Poland. In previous years, the Klima-Therm Group invited business partners working with the KAISAI brand on joint trips to Prague, Scandinavia and China.