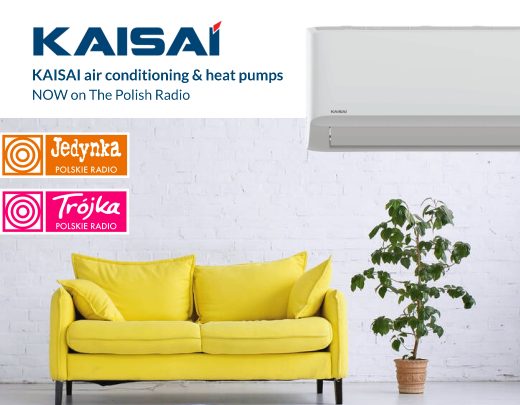 KAISAI TO INCLUDE POLSKIE RADIO IN ITS ADVERTISING CAMPAIGN
At a 100-square-meter booth located in Hall 4A of the modern NürnbergMesse complex, the Klima-Therm Group presented the latest air conditioning, ventilation and heating solutions from its own brands KAISAI and Klimor.
Klima-Therm, the owner of the brand and general distributor of KAISAI air conditioners and heat pumps, continues to intensify its radio advertising campaign that has been running for over a year. The advert currently broadcast by RMF FM and RMF radio stations will now be augmented by Klima-Therm's sponsorship presence in radio stations belonging to Polskie Radio (Polish Radio).
Until the end of the summer holidays, jingles promoting KAISAI air conditioning units and heat pumps will accompany popular programmes on Jedynka and Trójka stations of Polskie Radio, with the frequency of several dozen broadcasts per day.
The presence of the KAISAI brand on Polskie Radio is to ensure that its advertising message reaches audiences in large and medium-sized cities, as well as smaller towns. By doing so, Klima-Therm aims to boost its media activities and diversify its target client group for even better effectiveness of the campaign addressed to retail customers.
The radio campaign promoting KAISAI products has been running continuously for more than ten months and will continue to run at least until January 2022. Thanks to the company's consistent actions and the diverse range of stations included in the media plan (Radio ZET, Antyradio, RMF FM, RMF Classic, Jedynka PR, Trójka PR), the KAISAI brand message is sure to reach a wide audience across Poland, in the key target group of M/F 25+.
The primary sales objective of such an intensive campaign is to strengthen the leading market share of KAISAI air conditioning units and heat pumps intended both for the home and for the office.