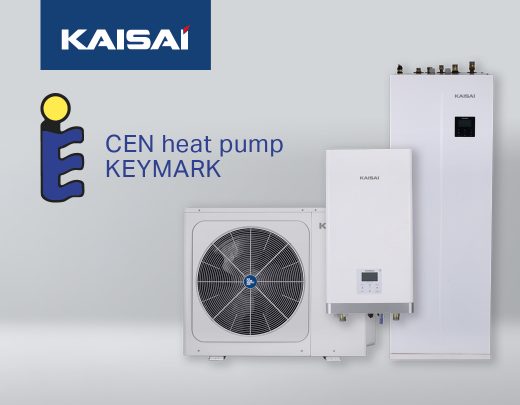 KEYMARK-CERTIFIED KAISAI ARCTIC HEAT PUMPS
At a 100-square-meter booth located in Hall 4A of the modern NürnbergMesse complex, the Klima-Therm Group presented the latest air conditioning, ventilation and heating solutions from its own brands KAISAI and Klimor.
KAISAI heat pumps of the ARCTIC series are certified by KEYMARK, which is a confirmation of compliance with European standards for quality and environmental product.
Heat pump KAISAI Arctic split KHA+KMK
Heat pump KAISAI Arctic monoblok KHC
The KEYMARK certificate is a voluntary, independent European certification mark for heat pumps, confirming product compliance with European standards. It is based on tests in an independent laboratory and demonstrates compliance with the product requirements set out in the KEYMARK Heat Pump Principles and with the performance requirements set out in the Ecodesign – EU Regulations 813/2013 and 814/2013.
Why is the KEYMARK important?
KEYMARK assures customers and distributors that the product meets the eco-design requirements, confirms that the manufacturer's data is reliable, and that the product also meets high environmental standards. KEYMARK certified heat pumps play a significant role in achieving key climate protection objectives as they reduce the demand for final energy – in particular, fossil energy sources, reduce greenhouse gas emissions and use renewable energy sources in the form of stored energy in the air. The certification process also verifies that the production of the heat pump respects standardized quality and environmental standards. This is done through factory production control and quality management control.
KAISAI Arctic Heat Pumps with KEYMARK Certification
This certificate confirms that the KAISAI Arctic split type heat pumps with capacities of 6, 8, 10, 12, 14, 16 kW and the monoblock type with capacities of 6, 8, 10 12, 14, 16, 22, 30 kW have been successfully tested by an accredited testing laboratory and evaluated by an authorized certification body, which guarantees their compliance with European standards and the principles of the KEYMARK system.