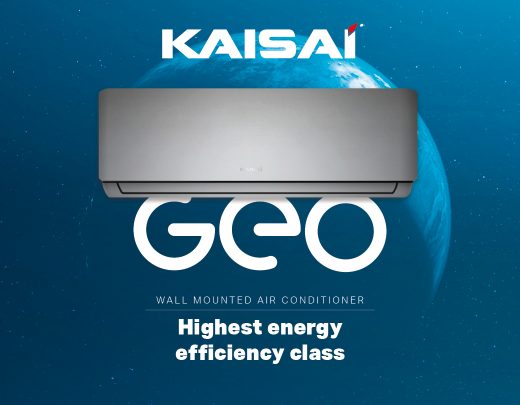 THE NEW KAISAI GEO WALL-MOUNTED AIR CONDITIONERS
At a 100-square-meter booth located in Hall 4A of the modern NürnbergMesse complex, the Klima-Therm Group presented the latest air conditioning, ventilation and heating solutions from its own brands KAISAI and Klimor.
The KAISAI GEO wall-mounted air conditioner is a perfect combination of modern design with the highest energy efficiency class A +++ in cooling mode and A ++ in heating mode.
Using specialized filtration, the air conditioner not only cools and heats, but also effectively purifies the air. The cold-CATALYST filter removes chemicals such as carbon monoxide, hydrogen sulfide, ammonia, benzene and formaldehyde. The air purification function is supported by a Bio HEPA filter that effectively traps 99% of dust particles, dust, and bacteria with a size of 0,3 μm and up to 95% of particles from 0,1 to 0,3 μm, including fungal cells and some viruses.
Thanks to the air-ionisation function, the appliance removes particles of mites, mould, bacteria, and viruses. An additional effect of the ioniser is air humidification, which positively affects the skin, and imparts a pleasant feeling of freshness in air-conditioned rooms.
High convenience of use is ensured by the WiFi module, integrated as standard and practical functions such as 3D air flow ensuring optimum air circulation and an even temperature distribution in the room.
More information about the new air conditioner can be found in the leaflet.