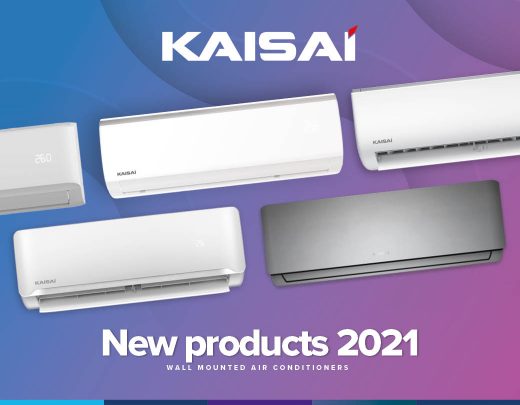 KAISAI WALL AIR CONDITIONERS WITH NEW FUNCTIONS
At a 100-square-meter booth located in Hall 4A of the modern NürnbergMesse complex, the Klima-Therm Group presented the latest air conditioning, ventilation and heating solutions from its own brands KAISAI and Klimor.
The existing models of KAISAI wall air conditioners have been enriched with additional functions ensuring clean air in the room and increasing the comfort of use. The UV lamp used in the KAISAI CARE model and the 56˚C sterilization function effectively eliminate mold, bacteria and viruses from the air, including SARS-CoV-2. The air ionization function, which has been added to the KAISAI ONE model, in addition to breaking down microorganism particles and removing dust, smoke and smog, makes the air in the apartment or office pleasantly fresh.
The new Bio HEPA and cold catalytic filters were used in the KAISAI FLY and KAISAI PRO+ models, removing up to 99% of dust particles and microorganisms and cleaning the air from unwanted chemicals. High comfort of use of all devices is ensured by a WiFi module as standard the 3D airflow allowing for optimal air circulation and even temperature distribution in the room,
The other most important features of KAISAI air conditioners are: ecological R32 refrigerant, high energy efficiency indicators and operation in a wide range of external temperatures.
More information about the new air conditioners can be found in the leafet New products 2021 – wall air conditioners.