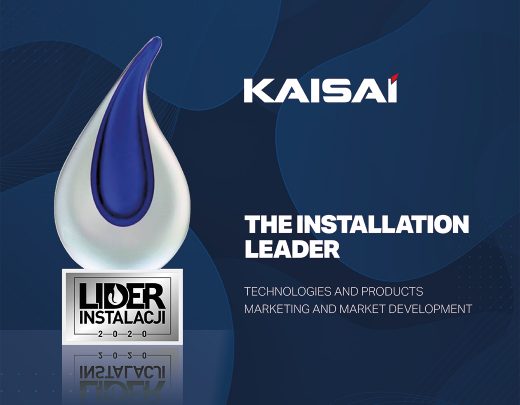 KAISAI WINS THE "LIDER INSTALACJI 2020" ("INSTALLATION LEADER") COMPETITION
The jury of the 2020 edition of the "Lider Instalacji" competition has awarded the KAISAI brand with a prestigious industry environment prize, distinguishing the latest series of KAISAI One air conditioners. From the perspective of all the activities carried out for the purpose of creating the Klima-Therm Group brand, the award received in the "Marketing and Market Development" category can also be seen as a crowning statuette.
The idea behind the "Lider Instalacji" competition, which is held every two years, came from Grupa Medium, and the editors of the "Rynek Instalacyjny" magazine. A jury composed of independent experts – representatives of universities, industry institutions, and consumer organisations – assesses the products submitted to the competition, in terms of their innovativeness and environmentally friendly solutions, as well as their marketing activities and popularisation of modern technologies. The ceremony for awarding the statuettes to the winners of this year's edition of the competition will take place at the "Targi Instalacje" (Installations Fair) in Poznań, which is planned to be held between the 18th and 19th of November, 2020.
In the "Ventilation and Air-conditioning" category, the "Installation Leader 2020" statuette was awarded to the split-type Kaisai ONE (KRX) wall-mounted air conditioner – an energy-efficient device combining high operating parameters and modern design with exceptionally simple installation, maintenance, and cleaning. The new design of the air conditioner, and the optimised arrangement of the individual components inside the unit, save time during installation and daily operation. Additionally, thanks to using state-of-the-art technology and R32 refrigerant, the air conditioner can operate at a very-wide range of outdoor temperatures. KAISAI One also ensures high comfort of use, which is provided by a modern wireless remote control and a WiFi function as standard, for controlling the device using your cell phone or tablet.
The prize awarded for the product was also accompanied by a statuette awarded in the "Marketing and Market Development of the Company" category, can be seen as a special crowning achievement regarding all the image-related and pro-sales activities being implemented by the Klima-Therm Group, in recognition of its building a strong leading brand on the HVACR market.