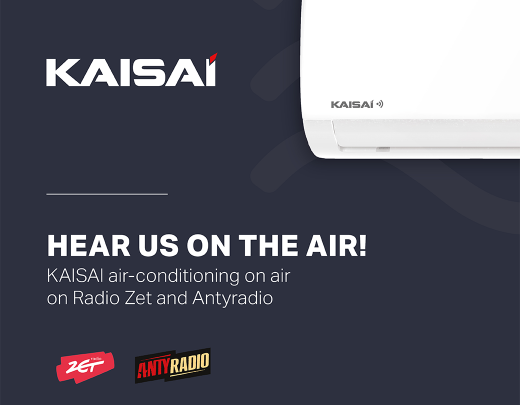 THE KAISAI RADIO CAMPAIGN HAS BEEN LAUNCHED!
On the 11th of May this year, KAISAI launched a radio campaign in Poland, which is line with the slogan "Air conditioning for your home and office," promoting the use of air-comfort equipment in places where people reside or work.
For nearly 2 months (from 11 May to 3 July), the KAISAI's advertising spots will be broadcast on the two biggest and most-popular radio stations in Poland, which are part of the Eurozet Group, namely Radio Zet and Antyradio.
With the coming season of warm, and the at times even scorching summer, as was the case last year, in mind, we would like to guide the listeners to a product which will certainly improve their quality of life when they stay indoors, be it their home or office – comments Ewa Pilarska, Marketing and PR Director at the Klima-Therm Group. She then adds: Air conditioning used to be a sign of luxury, but today, fortunately for us, it has become a product available to all, with its performance greatly improving the comfort of life. The most human-friendly temperature is between 20 and 26 degrees Celsius. So, when it's hot outside the window, it's nice to improve your well-being with the right temperature.
During the campaign, sponsored spots will be broadcast from Monday to Friday, i.e. 5 days a week, in different bands, before and after selected programmes which are most popular among the listeners.