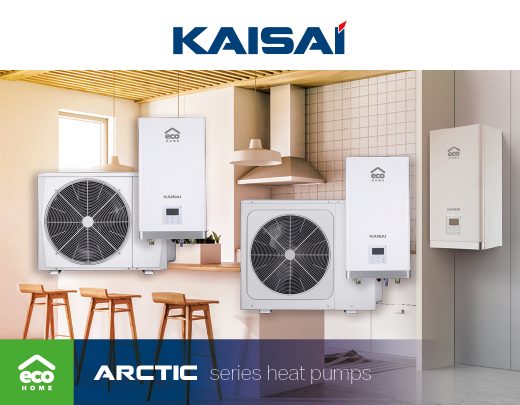 NEW SERIES OF KAISAI ARCTIC HEAT PUMPS
KAISAI's range of heat pumps has been expanded with the new Arctic series, which can operate in a wide range of outdoor temperatures. It means a much quieter design of the outdoor unit and the possibility to connect up to 6 units in a cascade system.
The equipment is provided with USB ports for updating software and saving settings. The new ComfortHome application for tablets and phones allows you to remotely control supply and hot water temperatures, switch zones and control electricity consumption.
ARCTIC SERIES' PUMPS mean:
– a new series of types of Split heat pumps: 6, 8, 10, 12, 14, 16 kW (12-16 kW models for 3 phases)
– a quieter design of the outdoor unit, one fan also in 3-phase models, sound pressure level from 46 dB(A)
– the use of ITB for DHW heating
– corrected heating curves
– maintaining the heating power of the heat pump when the outside temperature is + 7°C to -10°C.
Detailed information about the Arctic series can be found in the price list folder.